Hi,
When I try to boot up the latest live image, I am unable to get to the actual OS. It gets stuck while trying to start the amd gpu.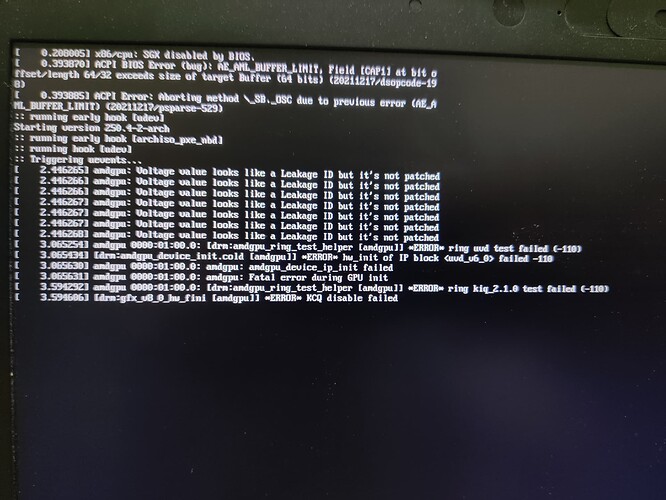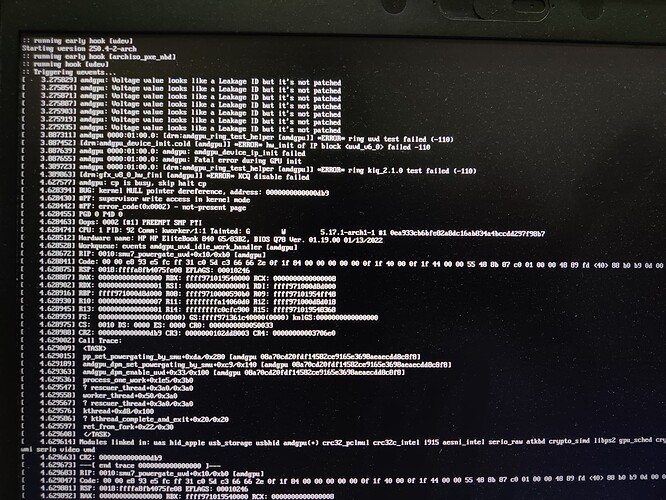 The graphics card is amd rx 540.
Some more background to this issue. I have used endeavouros in the past. Back then, the gpu was correctly initialized and working as expected. However, after an update, it stopped working and the OS did not recognize my gpu. I tried both with both DRI_PRIME=1 as I used to earlier and trying to check the output of vulkaninfo, but the gpu was just not recognized. I remember this was definitely a case of some update breaking this as I downgraded the packages to an older date and it was recognized again. I thought this was a temporary issue and removed endeavour os, in the hope that it would get fixed. But further updates have not worked. The Atlantis release boots to the OS, but still does not recognize the gpu.
To be clear, this is not an issue with only EndeavourOS, or arch linux or other arch based distros like Garuda or Manjaro. I have tried to use Fedora as well, and that does not recognize the gpu as well. However, and this is the catch, ubuntu based distros seem to have no trouble recognizing the gpu. I have tried Linux Mint, Ubuntu, Kubuntu, and Pop OS and all of them recognize the gpu. Even after I manually installed the latest kernel to Ubuntu, the gpu works as expected.
I have tried comparing the code for linux and linux-firmware packages that fedora and ubuntu are using to see if there was some issue there, but I couldn't find any meaningful change, at least in relation to the amdgpu module that is causing the issue.
If anyone has any idea how to fix this issue, or anything I can try to make the gpu recognized, I would be grateful. Thanks a lot.