I'm planning an AMD-based desktop build. I have a target to stay below ~$1,000(USD) or not too far over that? I've done some poking and shopping and have come up with the following as a potential combination of Motherboard, CPU, GPU and memory (I have quality nVMe and SSD drives and more than capable case and power supply already):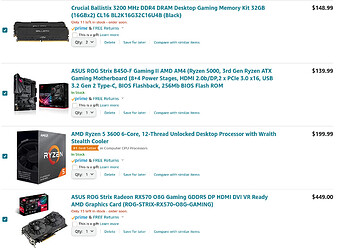 Anybody see red flags with any of these choice? Better trade=offs for performance vs cost? I'm not a big gamer, but do like to be able to play some FPS or WoW type stuff at times. Mostly I'll be editing and/or streaming video, writing and compiling code or just web surfing.
Thanks in advance for constructive criticism or suggestions!